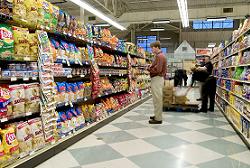 What Is The Baus Order Entry System? Baus Order Entry is an affordable solution which allows a salesperson to automate the sales order process. The system is designed to allow your salespeople to quickly and easily enter the information (customer, product, quantities, special coding, special instructions, etc...) that is necessary for generating a sales order in your back office order entry system.
The system consists of one or more handhelds running the mobile Order Entry software and our Office Utilities application running on your office PC or network server that has access to your existing office order entry system. Customer and product information is downloaded to the handheld computers for use by the salesperson during sales calls. Sales orders that were written during the day are then transmitted back to the office. This data can be transferred back to the office via the following methods: direct serial connection, direct USB connection, modem or wireless Internet (802.11 WiFi or Wide Area Cellular). The orders are then posted to your existing office order entry system.
By automating the sales order process, the salesperson has timely, accurate data at all times and since the order is ready to be "posted" to the office order entry system when it is transferred, the extra time and potential errors related to "re-keying" the order in the office are eliminated.