What Is MilkManager?
MilkManager was developed specifically for home milk delivery distributors. The system runs on a Pocket PC based handheld computer. MilkManager was designed to replace the traditional route binder books that are used to maintain customer names, addresses, phone numbers, standing orders, cash receipts, customer balances, delivery notes, customer pricing, route sequencing and delivery record keeping. With MilkManager, you can carry the equivalent of all of your route books in a computer about the size of a paperback book.
MilkManager also saves you significant time both on the route and when creating customer billing statements. The data collected each delivery day is consolidated, priced and sent to QuickBooks. QuickBooks maintains your customer accounts receivable and allows you to analyze your sales and customer information with a number of predefined reports. The data is also available if you wish to analyze it with a database or spreadsheet such as Microsoft Access or Excel. Interfaces for office accounting packages other than QuickBooks are also available.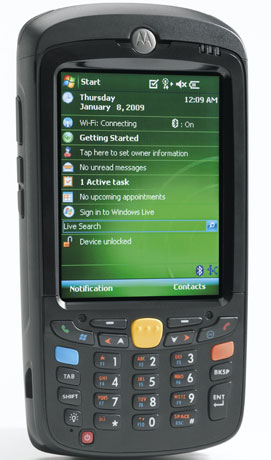 System Configuration
The Complete MilkManager System includes
Motorola MC55 handheld computer.
MC55 Charging and Communications Cradle.
MC55 Vehicle Cradle.
MilkManager Route software license.
MilkManager Office software license.
Click here for Motorola MC55 handheld computer information
Software only licensing is available.
MilkManager Route
MilkManager Office
Software Support & Maintenance Package.
Conversion and Installation Services.